Guitar Kits Vs. Custom Guitars - Which is Best for You?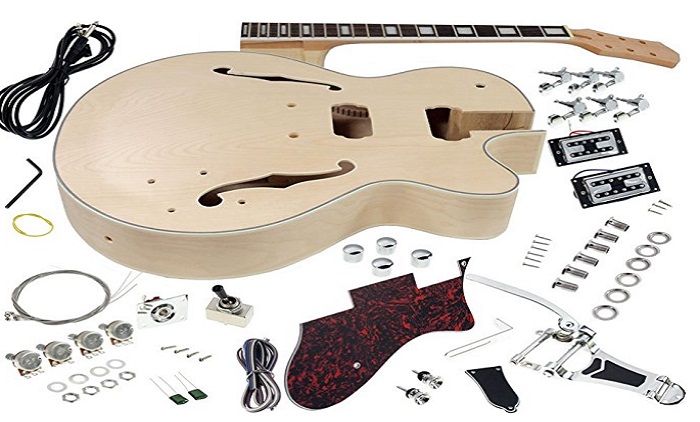 There are a number guitar kits on the market nowadays.  Every kit that I have seen is a copy of a well known guitar model.  
What Are Guitar Kits?
Kits that copy Martin models are very common.  Usually these kits come with Mahogany or Indian Rosewood for the back and sides.  The soundboard will be Spruce.  The sides are pre-bent for the shape of the body.  Braces for the back are usually Mahogany.  The braces for the soundboard are Spruce and have been re-carved.  The neck is made from Mahogany and has been machined with CNC router.  All the parts are ready to glue together inside a body shaped mold.  There is a lot of sanding to do after the parts have been glued.  Finally a protective finish must be applied.

Custom Guitars are Different
My guitars are not built from kits.  I hand select all the wood and store it in a climate controlled room until it is ready to use.  I keep the humidity at a consistent 45 percent.  I have been collecting tonewood for over thirty years.  I am always looking for unique species to use in my projects.  I laminate the sides to produce extra stiffness, which prevents energy loss in the soundboard.  I do not copy a manufacturers design.  The internal bracing and construction has evolved from my experience and things I have learned from many teachers.  There is a reason behind all my techniques and designs.  I am not trying to be different for the sake of being different.  I have learned to build in ways that I believe are better than a factory and certainly better than kits. 
Are All Kits Bad?
Kits can be assembled and finished in a way that does produce good results.  A skilled luthier can construct nice guitars using guitar kits.  Kits are not bad, but an original custom built guitar will almost always be better.  A skilled luthier can voice a kit guitar to sound very nice.  I am not trying to put down guitar kits.  They have their place.  Kits are too limited to be used in my building.  I use soundboard wood that has been tested for maximum stiffness.  I thickness my soundboards until they produce a tone that is musical.  I use many different types of wood that are not available in kits.  I laminate necks with seven pieces of wood for stability and beauty.  There are many other differences that could be discussed.  My custom built guitars have many advantages over kit guitars.

Related Articles: